A place where young Freelancing dreams become reality.
2016 is around the corner. The countdown has begun. But wait, are you prepared to welcome 2016? We all know that the New Year will bring to the fore a whole new set of changes in the way businesses market their products and services, marketers try to improve their ranking with search engine optimization (SEO), the way people surf the web and a lot more.
According to hubspot.com, in the U.S. alone, an average of 12 billion web searches are conducted each month. SEO will gain importance more than anything else as it helps you drive quality traffic, get visibility, boost your brand and lend your business the credibility it needs to succeed. After all, what is the point of creating so much content and graphics if it is not visible to the audience when they run search query.
In 2015 also, marketers realized the value of SEO, aligning their content for customers' needs and mobile optimization for better results. After all, 50% of all mobile searches are conducted in the hope of finding local results, and 61% of those searches result in a purchase, according to searchenginewatch.com.
Searchengineland.com suggests SEO is the process of driving traffic from the 'organic', and 'paid' sources to win the rat race of ranking on search engine result pages (SERPs).  Though search engine rankings keep on changing from time to time (it's normal), make sure that you have built your site in the right way and regularly posting quality content to drive a steady stream of traffic to your pages.  An article in Quicksprout.com states that the average content length for a web page that ranks in the top 10 results for any keyword on Google has at least 2,000 words.
Wondering what SEO trends which SEO trends will turn out to be the major hits of 2016? Don't worry. Here, we bring to you an exclusive exposé on the hottest SEO trends and developments that are set to rock the world in the year ahead. Have a look!
1. Social Content Will Gain Prominence
In the coming times, content from social media such as Facebook, Twitter and LinkedIn will gain more importance on the SERPs. Already, 76% marketers use Social Media to support and boost SEO, cites an article published at Impactbnd.com. In 2016, marketers will do everything possible to make their Facebook posts or tweets rank higher on the SERPs.
Isn't that amazing?! We predict that more social media content will be indexed on Google and other popular search engines such as Bing and Yahoo. This will in turn blur the lines between 'web' and 'social media' in terms of SEO strategies. So, be prepared to find, collect and use your valuable social content for optimizing your page for maximum visibility.  For brand names, social media profiles are amongst the top results in search listings. For instance, if you search "Designhill" on Google, the company's Facebook page, Twitter profile and the LinkedIn page appear as the top listings. See for yourself!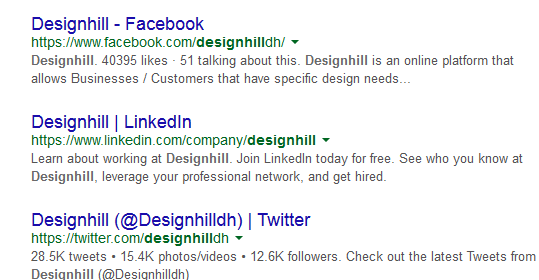 Blog.kissmetrics.com states that links to content on Facebook, Twitter, LinkedIn, Google+, YouTube and other social networks help the search engine crawlers understand what websites are credible and should be ranked for what keyword phrases.
2. Videos Will Still Rule
We all know that videos are a great way of keeping audience engaged and entertained. But do you know that by using enough videos, you can improve the ranking of your page on the SERPs. A report by Marketing Land states that videos make for 62% of all Google searches universally. Moreover, Google has started giving attention to blended results/searches. So, why not grab this opportunity to appear on the first page of search results by including an engaging video in your content? According to Quicksprout.com, videos get 50 times better organic page ranks in Google as against plain, static text results. Also, video searches garner 41% higher click-through rate as compared to plain, static text content, according to Relesoo.com.
Many marketers chose to drive their modern marketing engine with the fuel of Video SEO in 2015. And we predict that more marketers and businesses will embrace the trend of videos in the coming year too. Take a glance at what a blended search result looks like for the search query "777 built in 4 minutes".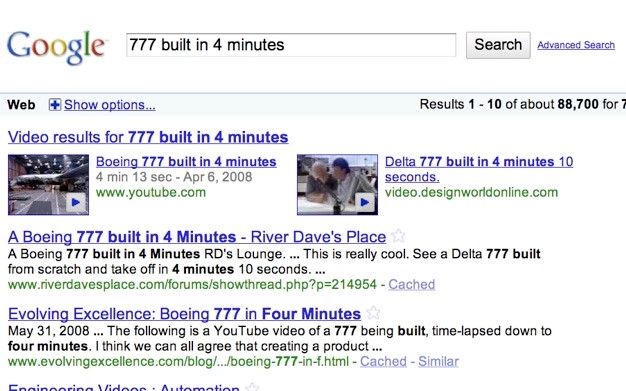 Now, the only way to appear in the search engine pages like this is by uploading your videos on You Tube or through video SEO. It is important that Google is able to find your video content, successfully index it and display your video content when specific keywords are entered as search terms.
3. Mobile Optimization Will Become Crucial
Is your business website mobile-friendly? Your audience is no longer in one place. People use all sorts of devices such as tablets, smartphones, laptops, phone watches to browse web. Keeping this in mind, plenty of brands went mobile-friendly in 2015. And we anticipate that more brands will take up this trend in the upcoming year. Mobile optimization will become the norm, rather than exception. So, it's high time you changed the way you conceptualize and create SEO strategies for mobile searches.
Neilpatel.com states that the total number of searches on mobile devices has seen a 43% increase year-over-year. Also, Google's algorithm update this year ensured that mobile-friendly websites get a search ranking boost on mobile searches. As more and more people use mobile to surf the Internet, Google decided to make it easier to find relevant, mobile-optimized websites. So, it now uses mobile-friendliness as a factor in ranking search results. If you're still not convinced, here are just 5 stats that will make you go mobile-friendly in 2016.